Three-year growth 2,837%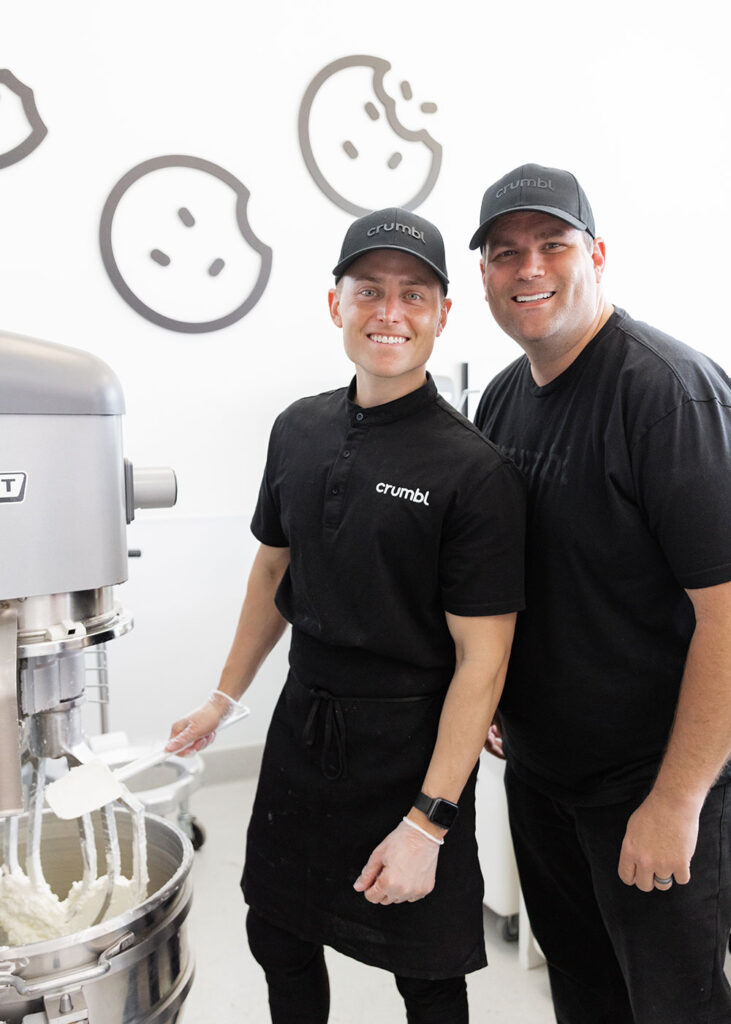 Crumbl is hitting the sweet spot. What started as one location in logan has become a nationwide phenomenon. With nearly 500 stores ACROSS almost every state, Crumbl sells more than one million cookies a day while perfectly Pink boxes are getting delivered to dear ones and doorsteps. "Crumbl started as a side hustle," says co-founder Sawyer hemsley. "We rented our first space for $900 a month. And after only three months, my co-founder JAson Mcgowan looked at me said, 'This could really be something.'" he wasn't kidding. Five years later, Crumbl is dominating its market, leveraging technology, creating social media stans, and baking it until they make it.
We're launching a rocketship but building it at the same time. We're growing fast, we've got a supply chain to manage, and we need to make sure our franchisees are supported. It's a lot. But man we have fun.
It all comes back to our partnership. Jason has a big vision and has led the way with our technology, and I'm obsessed with all the small details, scraping up anything he misses. Together we are able to scale this thing and set our goals high.
We'll have 500 stores by the end of this year, a thousand by the end of next year, and then we'll go international. In fact, we just finished paperwork for the UK.
It's pretty crazy considering we originally had no plans to grow outside of Utah. Just goes to show you the power of social media. The organic reach of people posting about their pink box deliveries? You can't buy that kind of advertising. The cookies and franchises have sold themselves.
A key ingredient to our success has been the weekly rotating menu. Our customers are in love with it. The Sunday night lineup reveals are almost like Christmas! It gives people a reason to come back week after week.
Our franchisees have put everything into their stores. Some have taken out mortgages on their homes and sacrificed careers. If we are not fighting for them at this level, we are not doing our job.
There's a lot of chatter and misunderstanding about the law suits. (Crumbl is suing Dirty Dough for copyright infringement.) But at the end of the day, we're simply trying to protect our brand, our trademark, and our partners. It's our duty as HQ to do that.
We welcome fair competition. It makes us better! And then customers get to decide who to support — and hopefully they support both. But this whole thing certainly hasn't been fun.
Throughout it all, we've learned to focus on the positive. Negativity can bring down an entire team. So we are choosing to focus on the good. And there is so much good.
People sometimes chuckle at us when we say we are a tech bakery. But we ARE. (chuckles) Jason has a full team of engineers building our technology in-house. We are data driven — and our systems and processes are better for it. And as a bonus, keeping the tech in-house has kept costs down for our franchisees.
Our team is strong — and it's only going to get stronger. We are bringing on key people and making strategic changes to our C suite. We're bringing on an executive from Chick-fil-A and other industry heavy hitters that will help us take Crumbl to the next level.
I love Utah. It's just home. I attended USU, and I love that our first store was in Logan. We've since been able to partner with the university, and it feels like such a full-circle moment for us.
We're so proud to be from Utah and to employ people here. We really want Utah to be proud of Crumbl. We're so grateful for their support — and for their love of sweets.
I could talk about Crumbl all day. It's exhilarating to build something energetic, fun and pink. Cookies bring joy to people. How can you split a cookie with someone and not smile?
The Sunday night lineup reveals are almost like Christmas! And it gives people a reason to come back week after week.