Three-year growth 393%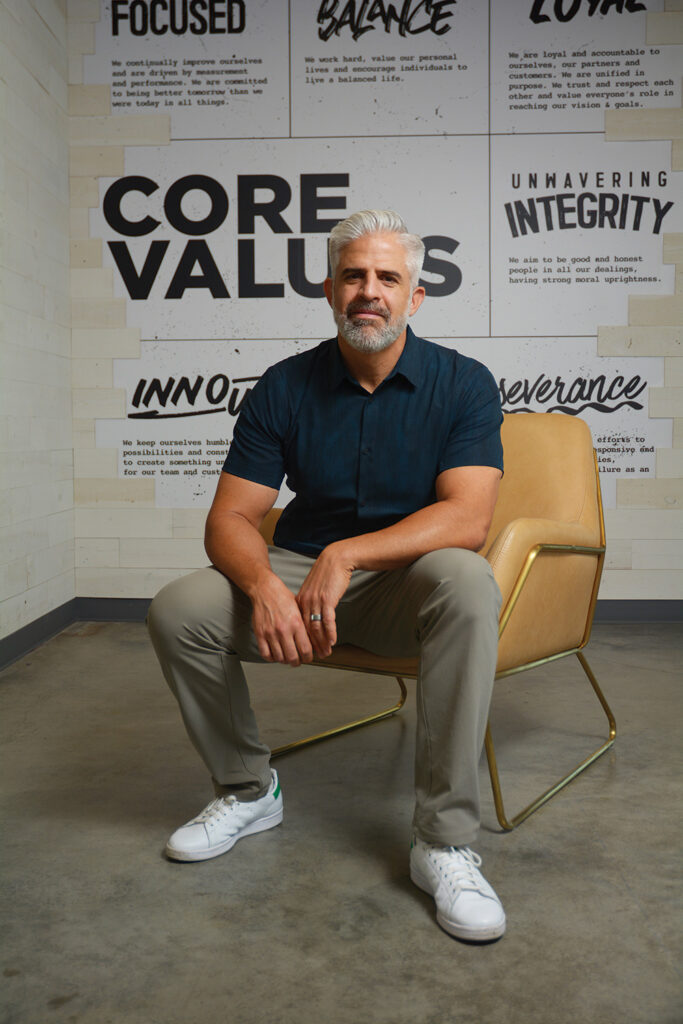 DENTAL INTELLIGENCE has A smart mouth — AND THEY'VE EARNED IT. More than 8,000 dental practices use the premier software to smartly grow their business. What's more, Dental Intelligence has more than 100 million patients in its database. "Our goal is to get 50 million more people in the U.S. to have healthy mouths," says Kelli Law, COO of the Pleasant Grove-based business. "We want to help dentists do more and achieve more." The company recently made two big acquisitions: LocalMed and Modento. And despite the dental industry shutting down for three months during Covid, they sunk their teeth into new strategies and earned more than $21 million in 2020.

Weston Lunsford owned a CPA firm with Rob Bay, and they had quite a few dental practices as customers. They started noticing some patterns.
They looked at the data and noticed that dentists — how do I put this nicely? — really struggled with running the business. They didn't operate off of any real information. They ran it all by feel.
So Weston and Rob started ProCore CPA — essentially a CFO for dental practices. They learned the numbers and KPIs and started consulting dentists with spreadsheets to help them build out their dashboards.
So where do I come in? I was neighbors with Weston and Rob. I had done a few startups in the Bay Area, and Weston came to me and told me about their company. "When dentists use our system, it's like a miracle for them," he said.
They shared one story where the dentist had graduated from dental school, bought a practice, and had been running it for eight ears. With all of his debt, he had only taken home a maximum of $80k every year. He called up Rob and said, "Help me sell my practice. People here think I'm a terrible dentist because I can't seem to make money." They told him to put the sale on pause so they could look at his data. Long story short, they identified the issues and made a plan. The following year, he took home $300k. The year after that? $400k. These miracle stories have multiplied for us over the years.
Weston is the visionary. Rob is a genius with numbers. And I run operations. They brought me in to turn their idea into a SaaS business.
Dental Intelligence checked all the boxes for me. I wanted to be in a vertical niche market. I wanted to work with a loyal team. I wanted to work for a profitable company. And finally, I wanted to know I was helping people.
This is about more than just helping dentists financially. It's a mental change. Dentists are in the top 5 professions that commit suicide. It's a stressful job, and we want to help lighten that business load so they can focus on healthcare. The more successful a practice is, the more people they can help.
When Covid hit, the entire dental industry shut down for three months. Man, oh, man, it was game on. In a weekend, we came up with a plan and built a new product to help our clients when they were ready to open back up and recover. We also donated close to $2 million by extending people credits and not making them pay their costs to us for a period of time. We tried to do our part to keep the industry afloat.
It was a crazy experience. The whole company worked harder when the dental industry was shut down than we ever had when it was open.
I don't want to use any cliches. Gosh, how do I say this? OK. I'll use a cliche. We're a family here. We really are.
For the first five years, we were able to grow organically. This past year, we took some private equity in order to take us to the next growth stage. We're still small, but we're not a startup. We've got to scale.
What's it like to grow this fast? Well, if you don't like sleep, it's amazing.
I had done Saas to varying degrees of success, like all of us entrepreneurial folks. Weston's 4 for 4 on his successes. The rest of us are a 1 for 6.
It was crazy. The whole company worked harder when the dental industry was shut down than we ever had when it was open.