Three-year growth 15,665%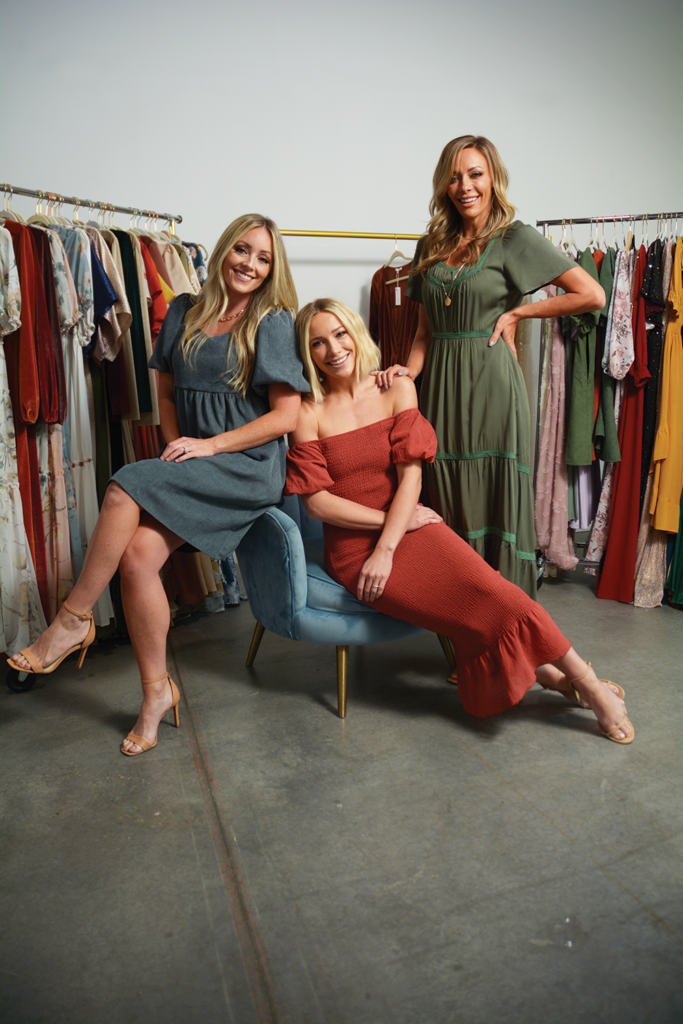 BALTIC BORN IS ALL DRESSED UP — WITH EVERYWHERE TO GO. Founded by three sisters — Allison Hunt, Angela Liljenquist, and Marianne Liljenquist — the e-commerce shop went from side hustle to serious muscle. In 2017, they did $70k in revenue. In 2020, they hit $11 million. The online boutique sells both the sisters' own designs and additional brands, and the clothing is affordable and size-inclusive. Their online following is numbered in the hundreds of thousands and is fiercely loyal — loyalty that helped them navigate the ups, downs, and unknowns Covid brought to the shopping world. Oh, and this year? Baltic Born's revenue is on track for more than $40 million. Try that staggering growth on for size.

In 2016 we decided to create a fashion brand as a side gig. We had gotten a taste of the e-com world with an athletic brand, and starting our own shop sounded like something fun we could do together.
We've been tight our whole lives. We all have different strengths, but we know how to push and support each other. We're creative. We're drivers. We're growers.
We started in Allison's spare bedroom. We would hand-wrap every single order and include a handwritten thank-you note. Every time we got an order we thought, "This is it. We've made it!" We had like three orders a month. (laughter)
We took on a $20k SBA loan. We wanted to be self-funded — to do this on our own terms. We used the loan to buy inventory, design the website, buy a camera — all while making monthly payments on the loan. We did everything ourselves — all the fulfillment, all the processes. We learned and refined as we went. We paid off that five-year business loan in a year and a half.
In 2017, Angela got let go from her corporate job in Miami. She was a single mom working remotely while she lived at our parents' house in Alpine, and the company gave her an ultimatum of either moving back to Florida or parting ways. Around the same time, Allison had just had her third baby, and Marianne was a hairstylist who developed a severe allergy to a variety of hair products. We were all at a crossroads. So we called each other up and said, "We've got to go all-in on Baltic. Are you up for it?"
We started strategizing and figuring out who our customer was. It had been a hobby up until that point, so we hadn't done a deep dive into the analytics of what was selling and where our market focus needed to be.
We soon found our niche: Dresses that work for women at any stage of life. Women's bodies and needs evolve, and we want to provide clothing that empowers them to feel confident.
We started hustling. We did pop-up shops at festivals and fairs — anything to get our brand out into the world. We pulled countless all-nighters and made so many sacrifices.
We quickly outgrew Allison's bedroom, so we moved operations into our parents' spare room. We outgrew that and moved into their basement. When we started having to drag giant mailbags up two flights of stairs, we knew it was time to move into the next phase of growth.
In 2020, we moved into this warehouse with a 3-year lease.We're already growing out of it. We also finally outsourced to a fulfillment center. Giving up control was scary, but we're learning that to grow we need to have the freedom to do what we do best.
We just purchased our new HQ in Lehi that we'll move into in 2022. That felt great. We're now employers to 60+ people. It's no longer just the three of us rotating business and childcare.
We recently had someone ask us who runs the "business side" of our business. Guess what? We do. So many people underestimate us. How could three sisters create and grow to this level?
We love showing our daughters and all women that they have choices. There are no limits.
We recently had someone ask us who runs the 'business side' of our business. Guess what? We do.