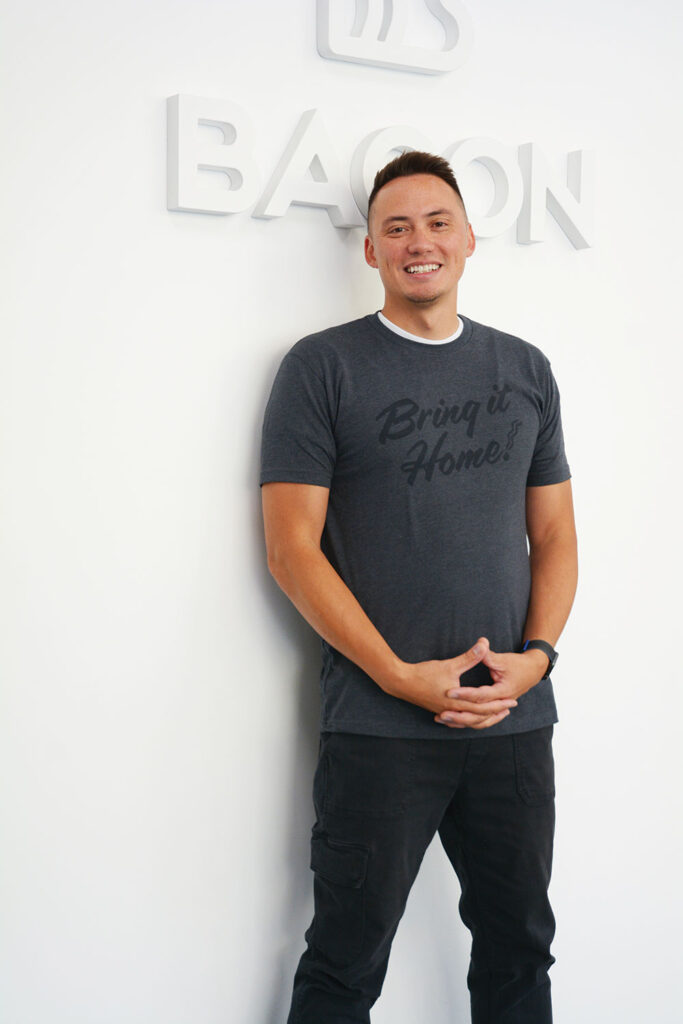 Now this is a breakfast of champions. Bacon is adding flavor to the stale world of temp agencies. The gig economy is serving up a huge opportunity (experts are estimating 78 million gig workers in 2023) — and bacon is feasting by curating a database of professional and reliable applicants. "we've got College students and stay-at-home parents who are ready and willing to hustle — they simply want the flexibility the gig economy affords," says founder hunter sebresos. "our job is to make it a win-win for both workers and the companies who NEED on-demand staffing." Since 2018, Bacon has raised $8 million in series-a funding and provided 240,000 shift work opportunities to more than 165,000 workers. way to bring it home.

My mother was a single mom who raised five kids. She worked a full-time job and attended college at night to finish her degree. I saw first hand how difficult it was. She could have really used a more flexible schedule.
Fast forward to 2018. I was sitting with my mom in a parking lot. My mom, by the way, graduated not only with a bachelor's but a master's as well, and put all of her kids through college. She said to me, "Son, even though I'm retired, I'd still like to work a little bit. Could you design a flyer for me and take it around to office buildings so that I can work a couple days a week?"
Her experience stood out to me. I asked myself what could happen when you have someone who knows how to hustle, but who could really benefit from work flexibility?
At the same time, I was having conversations with hiring managers, warehouse bosses and restaurant owners. Every one of them was lamenting how difficult it was to find people to work these hourly shifts. The old methods weren't working anymore.
The idea was right there. How do I connect these educated, professional, reliable people with the companies who need them? The Bacon platform was born.
Our first client was the Utah Valley Convention Center. They helped us get our feet wet — and they still post with us today. We've staffed Rio Tinto Stadium, Hogle Zoo, UofU, Freshly Picked. We've now grown to 20 different markets across 14 states.
The name Bacon is a conversation starter. I come from a marketing background, and I knew we needed to stand out. I didn't want to be perceived as being from the old temp agency world, and it worked. Because when people talk to the CEO of Bacon, they're constantly like, "Yesssssssss. Baconnnnnn." (laughs)
Beyond that, Bacon just fits right in line with our culture …. bring home the bacon, save your bacon, making bacon. In addition to the incredible workers in our database, we have over 60 employees here at corporate, and we show up and focus on positivity and reliability. "Hustle and Shine" is what we call it.
We're fast paced. We embrace growth. And if we need to, we take out the garbage. As CEO, I know the most valuable thing people are giving me is their time. It's up to me to make sure they are getting worth and growth in return.
Raising money was a challenge. We started the raise before the Ukraine crisis and before the economy took a hit. When that happened, things slowed down considerably. I'm so grateful to the investors who stuck through it and kept moving forward.
Our focus is continued growth. We are looking to get in more states, and we are bringing on key leadership that will help us catch the wave of the 2.0 gig economy.
Gig economy 1.0 was companies like Uber, Lyft and Doordash proving it could be done. Gig economy 2.0 is proving it's a win-win for both workers and companies. Bacon needs to be the shining example of what it can be. I want all voices from all sides to be heard and represented.
I don't believe in born leadership. Everyone can be a leader. And sometimes life calls you to it. Lead in a way that energizes people to work.
My mom has been a Bacon worker — and a great one at that. She's pretty proud of what the company has become. Tells everyone she knows about it! I couldn't fix my mom's situation growing up, but hopefully we can help the next generation of hard workers who need a hand.
I couldn't fix my mom's situation growing up, but hopefully we can help the next generation of hard workers who need a hand.