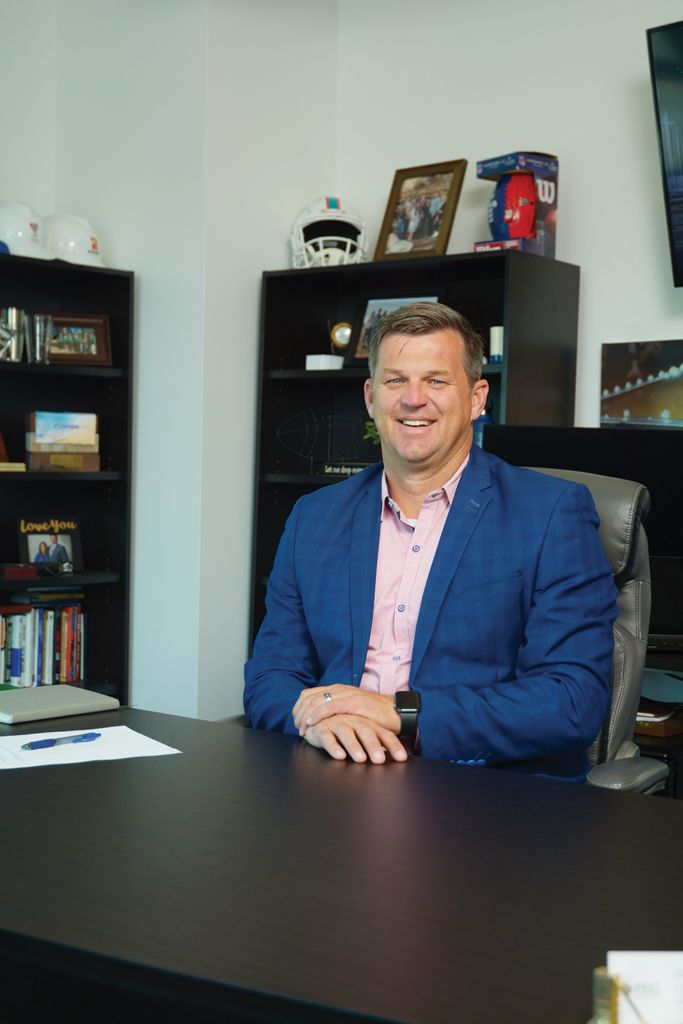 LET'S GET REAL (ESTATE) — PEG companies is taking things up a peg. The Provo powerhouse has a thousand employees across the country investing, developing, and managing various properties. From hospitality to multi-family housing to student housing (and many, many sectors in-between), PEG has developed more than $1.2 billion in real estate and is building communities from the ground up — all while staying grounded in the values that got them there. "I'm a farmer, and we know how to work," says founder Cameron Gunter, who grew up on a dairy farm in Idaho. "We operate with integrity, transparency, and grit. We do what we say we're going to do." And newsflash — it's no small to-do list.

My background is in accounting. I'm an Idaho boy, and my wife is a Utah girl. We both graduated and moved to Utah Valley where I worked as a CPA in city management. I was hired by Lehi City, and I spent eight years in government learning the nuts and bolts of how cities operate.
While there, I worked with a general contractor in business development who was helping clients get through city processes. Working with him kicked off the development bug for me, and we formed a company together in 2003: PEG, which was a combination of our initials.
We started with development consultant deals and brought on high-net-worth investors. In 2005, I bought out the original partner.
Early on, we focused on developing projects and managing investments, and I eventually brought on two new partners. Then about four years ago, we shifted to become a real estate investment firm. We knew if we could control the process from A to Z, we could be more efficient and effective at every step.
We're not afraid of complicated. One of the reasons PEG has grown and succeeded so rapidly is because we aren't afraid of challenges. In fact, we welcome them, because we get to come up with creative solutions.
Take UVU's housing shortage, for example. I sat on the university's foundation board and knew then-President Holland quite well. He kept saying we need student housing on campus, and that it was one of the university's biggest concerns. But nobody wanted to tackle the problem.
So we came up with a plan. We knocked on the doors of 29 houses to see if we could get commitments from them to sell their homes and pave the way for future student housing. We did the leg work, and then we even had to win over voters in a formal election. Executing "The Green on Campus Drive" was so much work, but it was worth it. People love it. It's great for traffic, great for the university, and great for creating an on-campus experience for students.
Using grit and creativity to solve tough problems will never get old.
We have over 300 investors, and we always like to be transparent with them — tell them the good, the bad, and the ugly.
It all boils down to integrity. When I grew up as a farm kid, I learned that it's all you can take with you. My dad and grandpa taught me well. My word is as important as anything.
The long game keeps us grounded. We want to be invested in the right investments. If we had a short-term perspective, we likely wouldn't be successful. Relationships matter.
We now have six entities under our PEG umbrella, and we're growing rapidly. It often feels like we are going down the road at 55 miles an hour and trying to change our tire at the same time. We just don't have time to stop.
Covid hit our industry hard. While our hotels suffered the most, we were grateful to have apartments in our portfolio. We had to make quick shifts, take pay cuts (with executives taking the biggest dips) and get creative. It took a toll on us, but we're fortunate to be back to where we were before — and I'd even say stronger because of it.
I love Provo. I love Utah Valley. Look at those mountains! It just doesn't get better. Plus, the business environment is strong, and there are wonderful employees to draw from.
We'll continue to grow smart. We'll take calculated risks, try different strategies, and always, always stick to our principles.
We're not afraid of complicated. PEG has grown rapidly because we aren't afraid of challenges. In fact, we welcome them, because we get to come up with creative solutions.