Three-year growth 492%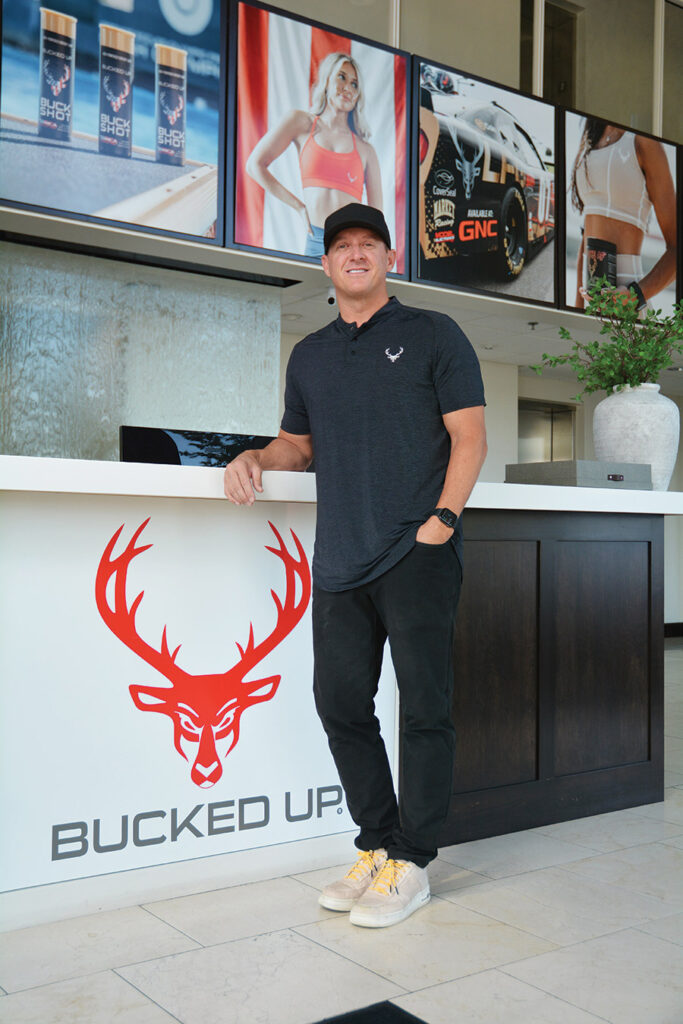 Ryan Gardner and his twin brother, Jeff, grew up on a farm in Clearfield, Utah, where they were taught to work. After the farm's economic fortunes went south, Ryan's mom and dad began working in the jewelry business, eventually operating numerous Adorn Me stores up and down the Wasatch Front.
"We saw the advantages of working for yourself and began catching the entrepreneurial spirit," Ryan says. "We appreciated the idea of working smarter, not harder."
After their missions, the brothers moved to Utah County to attend UVU. Both brothers found fertile ground to build an entrepreneurial farm deemed Bucked Up in the heart of Orem.

I have a secret weapon when it comes to building and running this business — my identical twin brother, Jeff, who is my partner and co-owner of Bucked Up. He and I have been in business together for a long time and we understand our strengths. He's a vital part of our success.
We both moved to Utah Valley for college. I earned an associate's degree and Jeff took a few classes, but we were both focused on building something for ourselves. I had a friend who was making good money following up on sales leads. We joined him, but found that the person making the best money was the person generating the leads. I decided I wanted to be that guy.
Jeff and I started Big Payout, an internet marketing company that specialized in taking products from our affiliate network and driving traffic to websites. We were essentially glorified brokers ­— we knew how to drive traffic to a website.
We had some clients in the sports nutrition industry and came across an article about deer antler spray being banned by Major League Baseball. We looked into it and found that deer antler spray was known to help athletes recover after a workout. We knew we needed to look into this.
Our internet marketing experience taught us how important a domain name is in being at the top of the search, so we bought the domain name "deerantlerspray.com" for $8. Then, we found a manufacturer of the spray (which goes under the tongue and absorbs into the body) and we were ready to move some product!
Initially, sales were slow. We were selling about 5-10 bottles a day. We were worried about selling our stock before the product expired. Then we walked in one morning, and there was an order for 100 bottles. We thought it might be fraud, but then another order for 100 bottles came in. We finally figured out that NFL great Ray Lewis was under suspicion for using deer antler spray and was being asked about it just before the Super Bowl. That publicity meant we sold out in one day. GNC called the next day and asked if we could supply their stores. We called our manufacturer and they said, "We thought you might be calling." The rest is history.
We started presenting at fitness expos and realized that the real big products were pre-workout. Our launch of this line of products led to Bucked Up being formed as a company. We launched Bucked Up at the LA Fit Expo in 2016 with 1,000 bottles. Our non-proprietary blend (we put the full formula right on the bottle) and clinical doses of the active ingredients made us stand out.
We thought we would have to take on an investor to have the capital to get into energy drinks, but we hired a CFO who helped us realize we had the funds to do it ourselves. In 2021, we sold 4 million cans of Bucked Up Energy Drinks. In 2022, we sold 20 million. This year, we're on pace to do about 55 million cans.
We needed a new corporate office and found this great spot right across from UVU. To afford the price tag, we decided to open a retail store in the lobby. That retail store pays for the headquarters. We're excited for the future and for other smart growth. Because we haven't taken on any debt, we can always take on something we're excited about. At my core, I'm an innovator. I like discovering new ingredients and taking chances at doing things a better way.
I'm excited for everyone to get Bucked Up!
"Bucked Up is now a brand people want to do business with, but we still have the attitude that comes from growing up on the farm and working for everything you have," says Ryan Gardner, co-founder and CEO of Bucked Up.