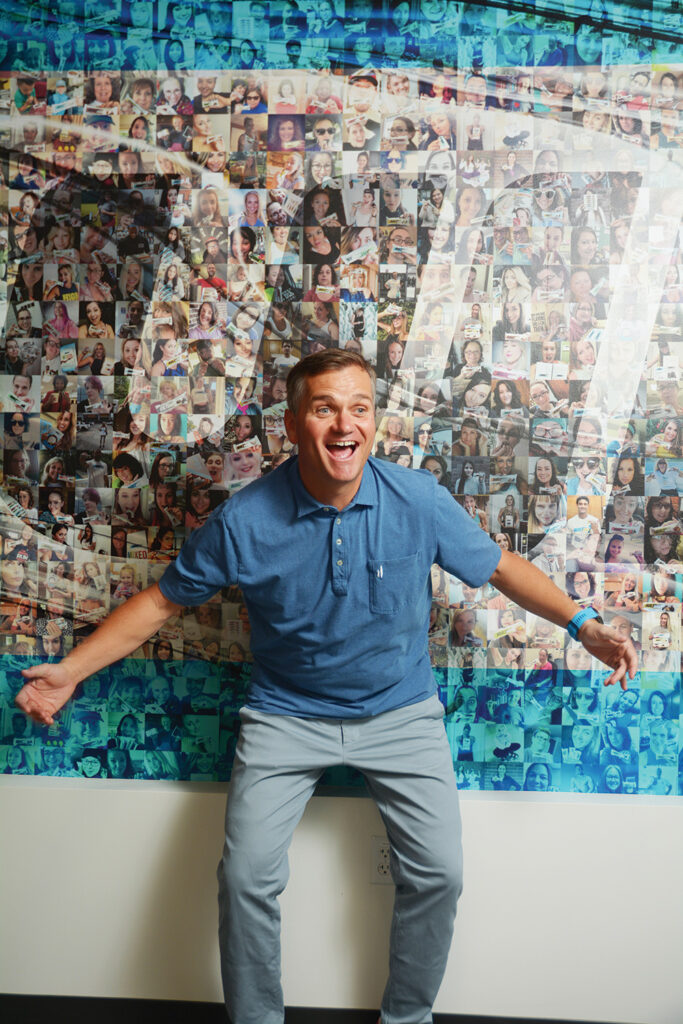 The most-watched BYU sports video ever on social media was built by Nick Greer. In August, the CEO hyped up the BYU football team — and fans worldwide — with his plans for Built to pay for all of the walk-ons' tuition as part of the NIL initiative. Tears and cheers followed — along with millions in sales of Built bars. Exactly a year earlier, Greer was making headlines for NOT selling protein bars when his site crashed and consumers lost some trust in the chewy products. But that was so last year. Now Built has raised the 200,000-square-foot roof and amped up its loyal fan base with low calories and high taste profiles.

A few years ago I told my sister I would never, ever want to own a CPG (consumer packaged goods) company. "Can you imagine? What a nightmare!"
Then I tasted a Built bar, and there was something so unique about the experience that I had to get involved. The first bars were sold in August 2018, and I jumped in a month and a half later. The company was started in an 800-square-foot kitchen in Springville. I brought it to 4,000 square feet in the old Walmart in American Fork.
We hit a million in sales during January 2019, and I knew I was going all in. We grew quickly to 11,000 square feet, then 40,000 and then 76,000. It was never big enough. Then we bought the old Twinlab building nearby.
The year 2020 was a trial of all trials. The pandemic brought so many challenges, and we were also moving into our new headquarters. We thought it would take us 2 1/2 weeks to transition. It took 7 1/2 weeks, and we weren't selling bars during that time.
On August 13, 2020, we were finally going to launch our new website at midnight. We had invested nine months and millions of dollars in the site as part of our rebrand. At 11:59 and 30 seconds, the site crashed. There were already 7,000 people on the site ready to buy. We had expected $4 million in sales that day. Nobody could buy our bars. People's belief in us crashed, too.
We spent the next five days going back to our old system and adding our new branding and products. I did anything I could to support my team in getting this up and running again. I offered to watch their kids. We kept working on Sunday, and I asked Heavenly Father to forgive us — and I think he did. On August 18, the site was back up. It was a Christmas miracle.
It's awesome how much we grew as a business during that time. We learned perseverance and grit are keys to survival. We made it through and we haven't looked back. It was time to execute on our strategy.
We decided to compete in the candy bar industry and not the protein bar industry. We're redefining how candy bars are consumed by how we place our products in stores and also in people's minds.
We want to be known as Built and not Built Bar. We changed our URL to reflect that. We have more products in development that fit our cool, edgy, "wow" vibe. And they're not all bars.
Our internal goal is to hit $500 million in 2023, but in my mind the goal is actually a billion in sales. We can hit our goals if our new equipment gets up and running in Q2 next year, which will allow us to make 66 million bars a month.
We love partnering with athletes and teams. I was sitting here at this conference table that is made out of the old Marriott Center floor when I was talking on the phone to coach Kalani Sitake. I told him I wanted to take care of his walk-ons by paying their tuition. There was silence for 20 seconds. There were goosebumps and tears.
On the morning of the announcement I drove to BYU by myself so I could get my thoughts together. I walked in and saw 123 players and their coaches. One of the walk-ons we recognized was Talmage Gunther. He's part of the family that owned Bank of American Fork back when they gave me my first loan for One on One Marketing. What goes around comes around.
In the news that day, people kept saying "a local protein bar company." I don't want to hear that ever again. We aren't just a local company. We see ourselves as a global company. I want every human on the planet to get their mouths around one of our products.
We decided to compete in the candy bar industry and not